Castlemara Community Centre sign gets them noticed!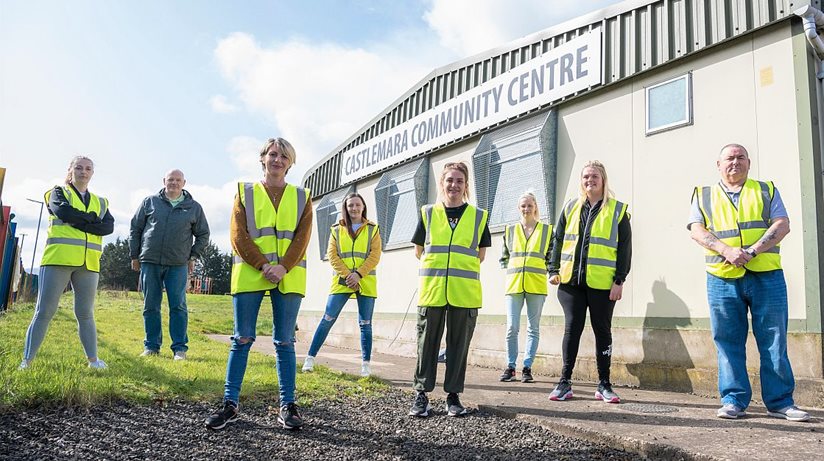 A recently erected sign in Castlemara is getting people's attention in Carrickfergus, thanks to funding from the Housing Executive.
Situated on the edge of the Castlemara estate beside the play-park and local petrol station, the porta cabin had the new signage completed last month, letting local residents know that Castlemara Community Association is up and running.
Committee members of Castlemara Community Association have been working closely with Housing Executive and Supporting Communities staff to reform the group over the last few years, and their work in the community has been making a difference.
Now the somewhat anonymous porta cabin is clearly recognisable as a community hub, and is already working hard for the residents.
Jim McCaw, Chairperson of Castlemara Community Association, said:
"Most people within the community knew there was a porta cabin but didn't know who owned it or what it was used for.  Now no-one will have problems finding us, including the postman!
"We are very proud of our porta cabin and the work we do in the community.  It took over a year to get the sign put up due to the pandemic, but it looks great and is certainly getting us noticed.
"We've carried out many projects, courses and social events for all ages since 2018, and our porta cabin has been particularly important for local residents this last year due to Covid-19.
"Covid-19 has been difficult, but we've used the porta cabin as a food bank, ensuring that the needs of the community were met and making sure the elderly, vulnerable and one parent families have had enough food and hygiene materials to get them through this terrible pandemic.
"Without funding from the Council, the Community Forum, the Housing Executive and others, we would have struggled to provide these services to local residents.
"I must commend our Committee of volunteers because without them and all the hard work they do throughout the year the tasks would never get completed."
Housing Executive Area Manager, Mairead Myles Davey, was really glad to help the local community group continue their good work in the Castlemara.  She said:
"By providing funding to erect the signage for the community centre, Castlemara Community Association can more easily engage and educate local residents and attract passing visitors on the purpose and function of the community centre.
"This was also highlighted in the action plan for LAN (Local Area Network) project here, and it's great to see continued progress."