Community planting success in Newry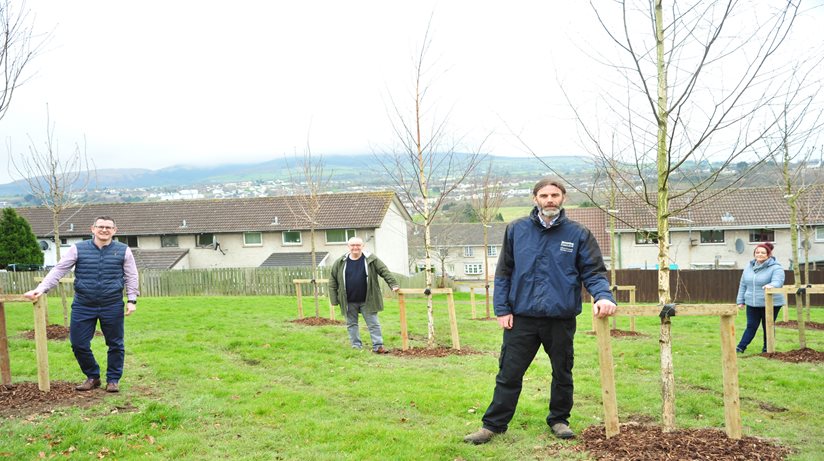 A successful community-based planting scheme in Newry is receiving help and support from the Housing Executive.
Last September, Lisdrumgullion Community Group had a meeting with the Housing Executive's Grounds Maintenance Supervisor, Neil Andrews and Niall Fitzpatrick, South Down Team Leader.
Expressing a desire to work in partnership, the community group linked with the Housing Executive through its Community Betterment Schemes.
Lisdrumgullion Community Group representative and spokesman, John McCabe also showed great enthusiasm for bettering the environment.
As a result of this scheme, 30 trees were planted at various locations at Drumgullion Avenue and Lisgullion Park on behalf of the Housing Executive.
Soon over 40 shrubs will be planted in the area to accompany 25 new hawthorn hedges.
John McCabe, spokesman from Lisdrumgullion Community Group said: "We asked the Housing Executive would they complement our environmental works by planting trees and providing a community raised flower bed.
"Much to our delight the Housing Executive came back to us with a big yes and we were totally delighted with this generosity!
"The piece of land we chose at Drumgullion was on the opposite side of the road where the new community garden will be."
Mr McCabe continued: "It was a case of working in unison with the Housing Executive and encouraging community ownership of the trees and plants that have been provided.
"I found my membership on the Housing Executive's Community Network very beneficial, particularly for this outreach work within our local community.
"We are delighted that these trees have been planted at various locations in the area and work will commence on our raised community garden soon."
Niall Fitzpatrick, South Down Team Leader for the Housing Executive, said: "From our initial site meeting with John McCabe last year, we could see the appetite was there to improve this area.
"Working alongside Grounds Maintenance Supervisor, Neil Andrews we were able to facilitate this.
"We always encourage tenants and residents to care and have pride in their areas and we are delighted with the results.
"We are now coming towards the end of this project and we will be leaving it in John's safe hands as the community lead for the area."
Liam Gunn, the Housing Executive's Area Manager for South Down, praised the successful efforts of his team members and the local community group.
Mr Gunn said: "This ongoing tree planting project with Lisdrumgullion Community Group has been a very successful and positive scheme on behalf of the Housing Executive.
"Work that has been carried out in the area has helped to improve the outdoor space for many residents to enjoy as we come into the warmer months and will be a welcome addition all year round."