Extension work begins on Carnagat Community House in Newry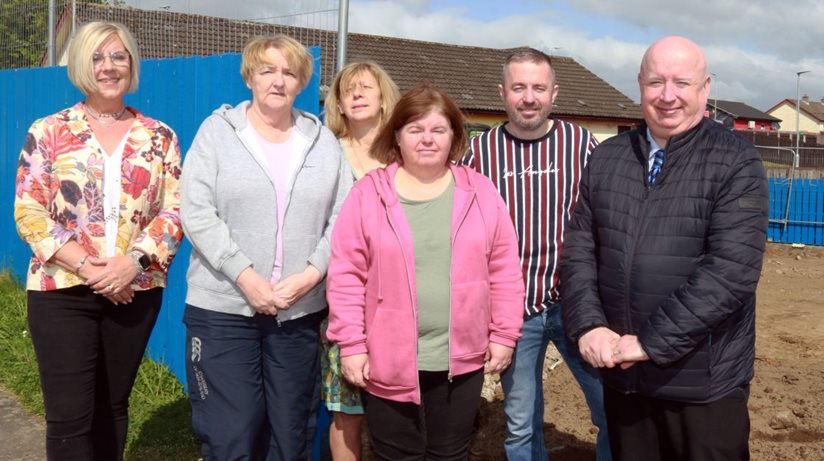 Work is underway to extend Housing Executive-owned Carnagat Community House in Newry after securing funding from the Department for Communities.
Carnagat Community Association - a group of local residents who provide a range of vitally important activities, events and trips for the local community - are based in the Housing Executive Community House.
Liam Gunn, Area Manager for South Down, said: "We are delighted that such a key focal point for the area is set for these improvement works.
"This busy community hub will have a greatly expanded range of services provided by Carnagat Community Association thanks to the extension.
"Reconfiguration of the existing building will comprise of an extension to the rear. This will accommodate a new modern recreation hall, foyer, accessible toilets, an enlarged kitchen and additional storage space.
"A new ramp and path constructed around the perimeter providing level access to the main entrance will transform the building into a fully accessible space."
Financial provision for this project has been made by the Department for Communities through the Neighbourhood Renewal Programme.
It is hoped the extension will be ready in October this year.
Anita Waite, Deputy Director in the Department for Community's Community Empowerment Division, said: "Carnagat Community Association has gone from strength to strength over recent years and has developed a suite of programmes and delivers a range of initiatives for the local community, both young and old. That success has put additional pressure on the existing facility.
"It is fantastic that those needs will now be addressed with the work commencing on the new extension which will provide the extra space needed to deliver programmes in an inclusive, safe and modern environment.
"This investment represents the benefits of working collaboratively with the local community, the Newry Neighbourhood Renewal Partnership and our delivery partners in the Northern Ireland Housing Executive."
Paula McGuigan, Secretary for Carnagat Community Association, added: "We are over the moon that the extension works have finally begun.
"Granting the community association this extension will mean we can continue in our commitment to support all those living in Carnagat.
"It means we can increase the services we provide in a much larger and more modern community space.
"We can safely increase the numbers of those who can attend our activities and events both weekly and at the larger summer scheme and seasonal times of the year.
"There will also be the scope for hiring out the facilities at a reasonable cost to residents and training organisations. This is something which will bring an abundance of new opportunities to the doorstep of our community.
"Our much-needed community association's existence will be secured for generations to come thanks to the extension.
"We would like to take the opportunity to thank the Housing Executive and the Department for Communities for making this extension a reality."