Housing Executive Health and Safety Contractor of the Year Awards presented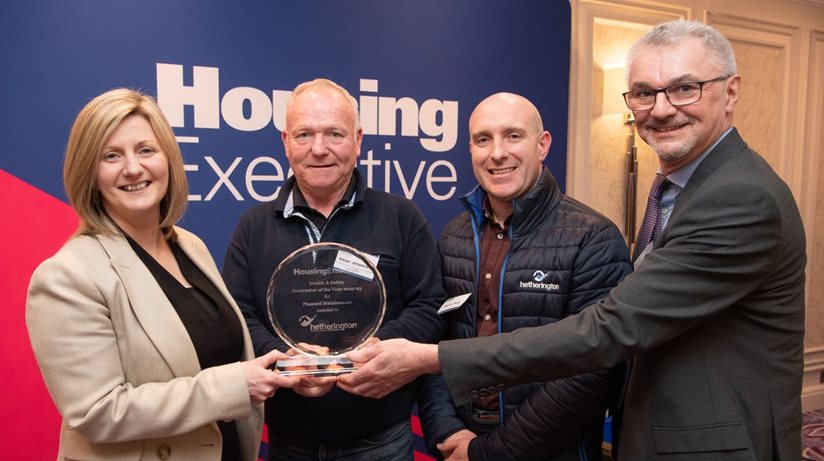 The Housing Executive's sixth, annual Health and Safety Contractor conference was held on Thursday 23rd March at the Tullyglass Hotel in Ballymena. The conference was well attended with 141 attendees.
Attendees heard from experts across the sector including the Health and Safety Executive for Northern Ireland (HSENI), Northern Ireland Electricity (NIE) and Northern Ireland Water. Staff from a number of Housing Executive departments also presented on key themes and issues including; gas safety and asbestos training requirements.
Winners of the annual Housing Executive Health and Safety Contractor of the Year Awards were announced at the end of the conference.
Hetherington Painting and Building Contracts took the award for planned maintenance services and Greenview Group won the response maintenance services award.
These accolades acknowledge the consistently high health and safety compliance standards that Housing Executive contractors adhere to, with 30 Principal Contractors in contention for the highly coveted awards.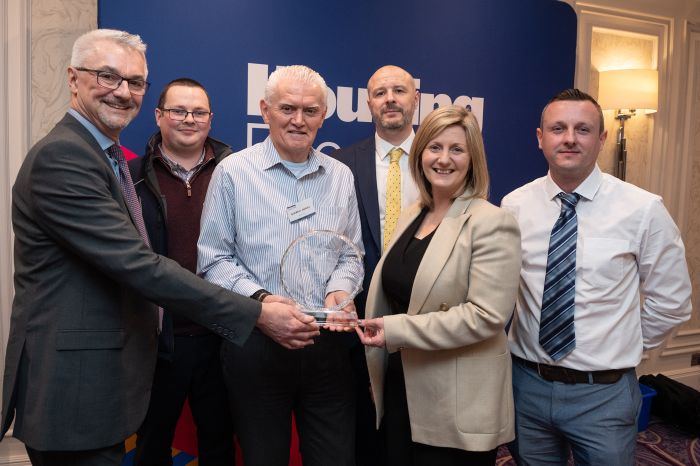 Pictured L-R: Chris Welch, Chair of Asset Management committee presents winners, David Black, Kieran Adams, George Stanfield and Stephen Sherry, winners of the Housing Executive Health & Safety Contractor of the Year Award 2023 for Response Maintenance, along with Chief Executive Grainia Long.
The Housing Executive's Director of Asset Management, Paul Isherwood, said:
"It is important to promote a positive health and safety culture among the contractors that work with us. This includes an awareness of mental health across the industry and providing our employees with the relevant training and support.
"This year's conference highlighted some key themes including stopping the stigma in relation to mental health in construction and promoting the right messages.
"We were glad to see our mental health charities, Action Mental Health, Aware and PIPs, in attendance and are pleased to have raised a huge £700 at the conference to help them continue their vital work."
The Contractor of the Year awards aim to highlight and promote positive health and safety culture among contractors and their staff whilst carrying out construction work in Housing Executive homes.