Homelessness Awareness Week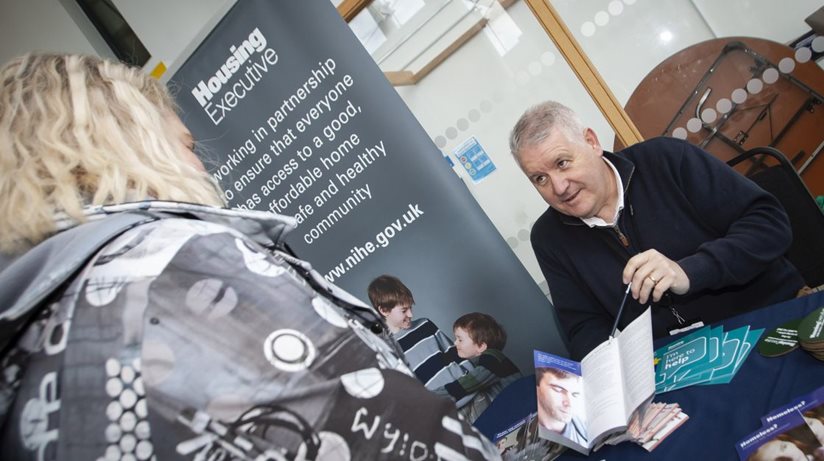 Housing Executive Homelessness Local Area Groups organised and hosted a series of events across Northern Ireland to mark Homelessness Awareness Week (HAW) in December.
Catherine Carey, Housing Executive Homelessness Strategy Manager, said:
"It is extremely important to raise awareness of homelessness and educate the public in what homelessness is, the circumstances that can lead to homelessness and how it can affect individuals and households.
"The theme for HAW this year was 'Have the Conversation' and we used the week to discuss ways we can prevent homelessness and support those who are homeless and threatened with homelessness.
"Homelessness is not only about people sleeping rough but includes other issues such as relationship breakdowns, living in accommodation that does not meet their physical needs, and having to make temporary arrangements by staying with friends and family.
"It also involves wider problems like the lack of temporary accommodation and social housing," she said.
"Prevention, alongside multi-agency partnerships, is vital to reduce the number of households that are homeless or are threatened with homelessness.
"We actively listen to those who have experience of homelessness so that we can improve the delivery of our services.
"We need to keep discussing these issues as it is crucial to helping the Housing Executive and others in the sector respond effectively and bring about eventual change.
"We continue to work with our key partners to ensure that we provide the appropriate support and assistance for those who need it," she added.
Homelessness Events
Portadown
The South Area Homelessness Local Area Group, chaired by the Housing Executive, invited statutory, voluntary and community agencies to give presentations and take part in workshops and discussions.
The event highlighted the challenges faced by the sector and plans on how each agency can contribute to developing solutions to prevent homelessness.
Coleraine
The Causeway Homelessness Local Area Group hosted an awareness event showcasing the work they do.
A presentation was delivered on the Homelessness Strategy 2022-27 which outlines the Housing Executive's approach to addressing homelessness and supporting some of the most vulnerable households across Northern Ireland, along with a detailed update on local issues.
Powerful testimony was provided by people who have experienced homelessness but have now found permanent homes, with the help of the Housing Executive and partner agencies.
Attendees also heard that all Health Trusts in Northern Ireland now have dedicated health and homelessness nurses to ensure forward health planning for the homeless community.
Fermanagh and Omagh
A range of organisations including charities offered advice to the public about homelessness and associated issues, such as how to manage debt, relationship breakdowns and support for young people at two drop-in centres.
There were specially commissioned videos of interviews with service users who have experienced temporary accommodation in the local area and who praised Housing Executive staff for their support.
Frontline Housing Executive staff also spoke about the barriers people face when they present as homeless such as the lack of temporary accommodation and social housing.
Derry/Londonderry
Staff in the Housing Executive Waterloo Place office hosted a breakfast fundraiser to mark the week. Representatives and staff from the homelessness sector in Derry City were there to #HaveTheConvo and raise funds for local homeless charities.
Over £7,000 was raised which will be distributed to homeless charities in the city and district over the coming weeks.
Housing Executive West Area Manager Eddie Doherty and the Mayor of Derry City and Strabane District Council also hosted an awards night in the Guildhall to recognise the invaluable work of the homelessness sector in the region.
Ards and North Down
More than 80 players from across Northern Ireland braved freezing weather to take part in a Housing Executive sponsored women's soccer tournament to help increase awareness of homelessness and also to ask local landlords to join the temporary accommodation portfolio to support local homeless households.
The event also raised £470 for the mental health charities which the Housing Executive has supported this year, AWARE NI, Action Mental Health and PIPS.