Housing Executive launch first apprenticeship programme of the year during National Apprenticeship Week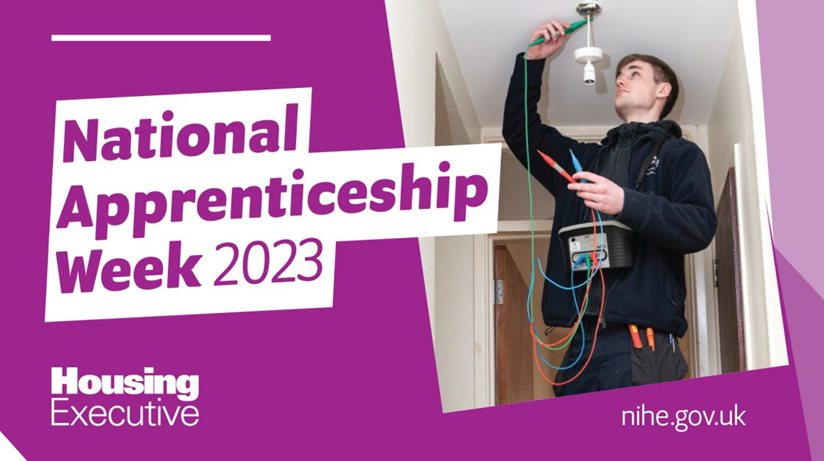 During National Apprenticeship Week (NAW) 2023, the Northern Ireland Housing Executive will be launching their first apprenticeship programme of the year.
National Apprenticeship Week runs from Monday, 6 February to Sunday, 12 February and is an opportunity to celebrate the positive impact made by apprentices.
The Housing Executive has a rich history of investing in apprenticeships and reaping the benefits of the valuable contribution they make to the organization, local communities and the wider economy.
Since 2017 the Housing Executive has provided development programmes for 65 apprentices, across multiple disciplines including; human resources, finance, asset management, quantity surveying, payroll, housing services and IT, as well as trades such as plumbing, joinery and electricians.
2023 will be no different as we embark on an ambitious entry-level strategy to attract and develop top new talent.
Continuation of these apprenticeship programmes will help to build skills for emerging talent and kick start future careers, in addition to supporting job creation and economic growth across all areas of Northern Ireland.
Alan Moore, Learning and Organisational Development Manager, said:
"During National Apprenticeship Week we will celebrate our past and current apprentices, explore future apprenticeship opportunities within the Housing Executive and take a closer look at what apprenticeships are and how they underpin what we do.
"There has never been a better time to consider an apprenticeship with us. We will offer a wide range of apprenticeships during 2023.
"Anyone who joins our apprenticeship programmes will have the opportunity to attain recognised qualifications, ongoing access to experienced mentors and career development options when they successfully complete their programme.
"They will have the ability to make a real difference.
"We're excited to launch our first 2023 apprenticeship programme later this week. Recruitment for Level 2 apprenticeship in joinery will open on Thursday, 2 February.
"This programme will directly improve the lives of our tenants by providing timely and quality maintenance at our properties."
For more information on the joinery apprenticeship and future apprenticeship opportunities keep an eye on the careers page of NIHE website at:
And follow NIHE on Facebook, Twitter, Instagram and Linkedin.