Join the 10,000 others on our tenant portal My Housing Executive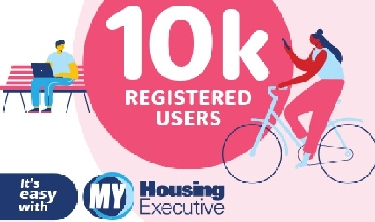 We all lead busy lives. That's why it is important that you can contact us at a time and place that suits you.
Get online now
Once you register, you can:
Check your rent balance and account statements
Request and track a repair
Message us directly
Make a payment
Order a new payment card
Update your contact, personal and household information
Request services like a transfer, an adaptation to your property or a self-help repair
Registering is easy
It only takes a few minutes to register.
Start now by clicking on the 'Sign In' icon on the top right of this page. 
This will take you directly to the tenant portal, where you can select the 'Register' option from the menu on the left of the portal homepage.
You will need to enter your tenancy number, an email address, and a few personal details into the registration form.
Like the one you may use for an online bank account, the email address you provide must be private and only used by you. This is because we will send you secure notifications and alerts to this email address.
Please note that you can only register for My Housing Executive if you are a Housing Executive tenant.