Michael Cecil - no two days on Rathlin island are ever the same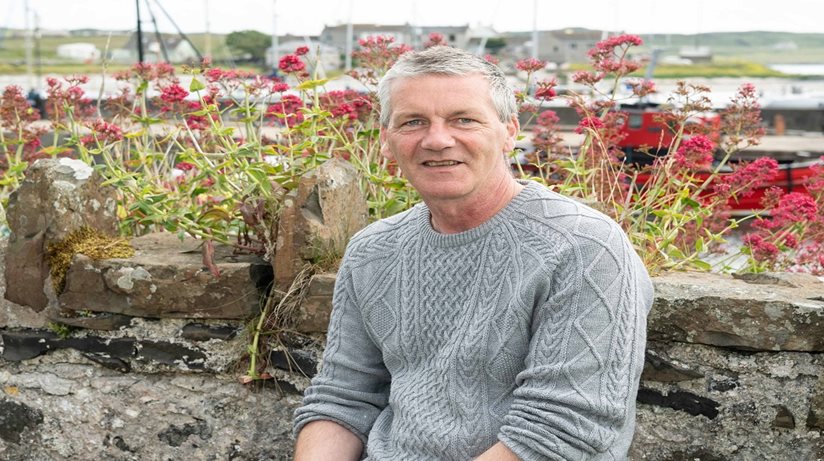 Helping mark our 50th anniversary, we're getting to know some of the people making a difference in our communities. Next up, is Michael Cecil, chairman of Rathlin Development Group, who was a Housing Executive tenant back in 1994.
He bought his home a few years later on the Island, which he says, was a straightforward process.
Housing Executive maintenance teams are regular visitors to Rathlin Island, and are on hand to help with any issues that may arise.
 "We always intended to stay here and I can't see myself living anywhere else. Most people will relocate because of education and work but it is a beautiful place to bring up a family here.
"Life is different every day and we have so many visitors that come to see us and we are surrounded by natural beauty," he said.
Michael is a skipper of the local ferry and works for Northern Ireland Electricity Network on the island, as well as running his mobile catering business.
He has a passion for growing Rathlin Island's population through his role as chair of the development group.
"The group's roots are in lobbying to help improve services on the island and it has now evolved into a lot more positive community development.
"We are developing the guest inn and lighthouse on the island and we have ambitions to reduce Rathlin's carbon footprint to zero by 2030 which is a big piece of work".
In order to accommodate the island's growing population, 10 social housing units are well under construction.
Michael said; "At the minute we are sitting at about 160 residents and the island's growth is on the right way. For a long time we had a population of about 75 people, which was not very sustainable.
"We would say around 200 people is a lot more sustainable and it means that services can be maintained properly.
"Social housing is important, but it has become more and more important because our population is increasing year-on-year with young families relocating and bringing up children on the island too.
"We would like to see the housing associations and Housing Executive get involved a bit more in some community ventures with the small estates and bring them together with art or projects."