Mid-Ulster residents get gardening happy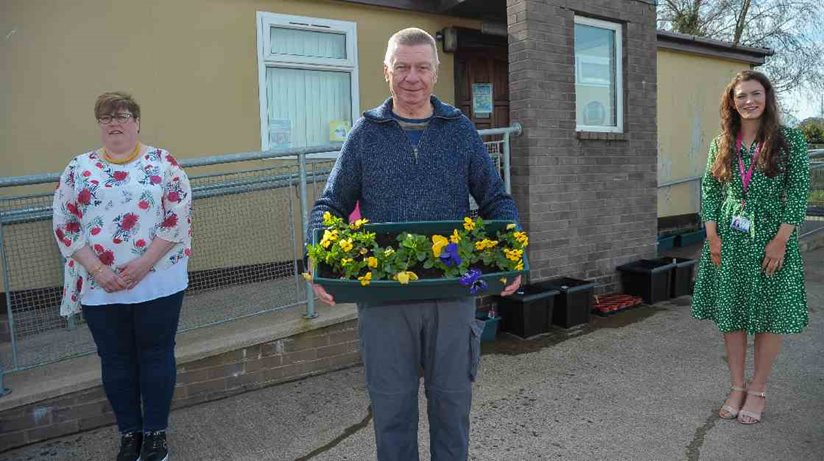 Recent funding from the Housing Executive has encouraged Mid-Ulster residents to get more green-fingered in the garden.
Allocating £1,300.14 to Tamnamore Community Development Association, the Housing Executive awarded the funds through its Community Grant Scheme.
Tamnamore Community Development Association used these funds to encourage local tenants and residents to take pride in their gardens and community, with displays of vegetables and flowers.
They are also hoping to create a green group for garden enthusiasts, which will allow local residents to come together and share their knowledge of green spaces and gardens.
Sandra Martin, chairperson of Tamnamore Community Development Association, thanked the Housing Executive for the worthwhile grant.
She said; "We encourage residents to enjoy the outdoor environment whilst planting flowers, vegetables and herbs, listening to the birds singing and all the wildlife.
"On a sunny day it was a joy to see the delight and smile of older residents who received their planting tubs and window boxes.
"Especially to those receiving cancer treatment and not feeling very well. We also recorded videos about how to plant flowers, vegetables and herbs for our Facebook page.
"These will continue to be updated and leaflets were also provided on planting vegetables."
"The frost has not been kind to our seeds planted – even though we listened to Monty Don on BBC.
"However, we will continue to plant more herbs and vegetables and share with the community – using the Amish method in USA of leaving products to be obtained in return for a small donation."
Sandra says this initiative will continue through its Youth Group and include other intergenerational activities.
Sharon Crooks, the Housing Executive's Mid Ulster Area Manager, said she was delighted the Community Grant has helped local residents get out into the garden more and appreciate nature.
She said; "Funding allocated from our Community Grant Scheme is often used to support a number of initiatives that promote health and well-being in the local area.
"These initiatives then in turn help community groups bring local people together and improve shared spaces in estates across the Mid Ulster Area.
"Funding used by Tamnamore Community Development Association is an excellent example of how a local community group has encouraged residents to get out into green spaces and grow their own flowers and produce.
"Through this funding allocation we are delighted to have been able to help provide planting tubs and window boxes for older residents, especially during this lockdown when I am sure this was greatly appreciated to lift spirits."