Could emergence from the pandemic breathe new life into rural communities?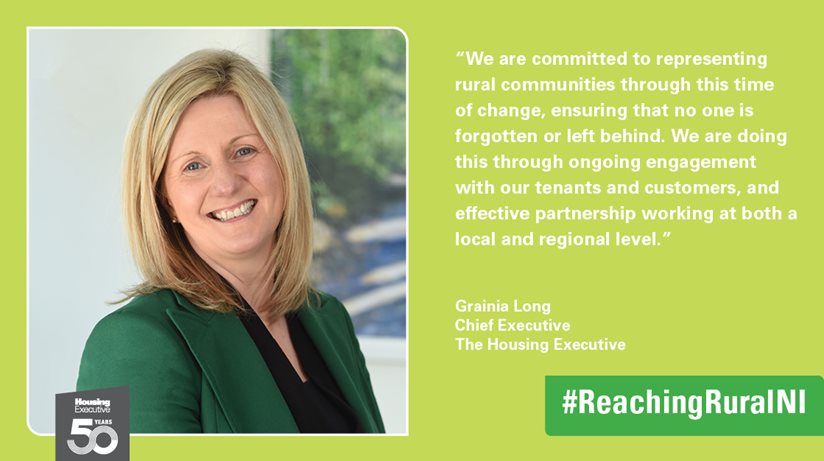 Our Chief Executive, Grainia Long, looks at the opportunities and challenges that the coronavirus pandemic has presented to rural communities.
As we emerge from the pandemic and consider what the 'new normal' will be, many people could now be considering the benefits of relocating to a quiet village nestled in the countryside where they can access a home which offers them greater space, views from the window of their home office and an opportunity to enjoy the pace of rural life. In fact the first qualitative reports from estate agents in 2021 suggest that not only are some people contemplating an urban to rural shift within Northern Ireland but indeed, the opportunity to work from home is enabling others who have moved across the water for employment to return home to their rural roots.
But if life after the pandemic does signal growth in rural populations, what might this mean for our rural communities?
An increase in village populations will inevitably drive up demand for localised services and facilities and for improved connectivity. Young families will need school places, access to sports clubs and potentially require new community infrastructure.  However, if this growth is planned and managed, it could support the delivery of community based activities and events.  If increased demand is met with targeted resources, this increased investment could provide an opportunity to breathe new life into rural settlements, helping to secure their future.
But will the opportunities extending from this potential growth benefit everyone? Many people are currently living in rural areas in a home which isn't suitable to meet their needs. There are currently just under 6,500 individuals and households on a waiting list for a social home in a rural settlement.  Therefore, meeting existing and new demand will require careful planning.
  
In recent years, there have been challenges in delivering sufficient new build social homes in rural areas to accommodate the steadily increasing number of households who require them. The greatest barrier is sourcing suitable and available housing development sites within the settlements for which there is acute and consistent unmet need.
This summer, we have published our draft Rural Strategy for consultation. This considers the changing policy context for rural development and the emerging opportunities to enable the delivery of homes which are affordable and sustainable. The most significant development will be the introduction of new local development plans which will shape land use planning in Northern Ireland for the next 15 years. As the Strategic Housing Authority for Northern Ireland, the Housing Executive will promote the need for planning policies which will enable the delivery of the affordable homes required over this period. We will also promote the need for development which is sustainable not just in terms of protecting the environment, but in encouraging shared and inclusive communities and in meeting the needs of an ageing population.
This is also an exciting time for the Housing Executive as we begin to consider the future direction of the organisation and how the ability to borrow could transform our existing social housing stock and enable us to contribute to and enhance the delivery of the Social Housing Development Programme.
Through ongoing engagement with our tenants and customers and effective partnership working at both a local and regional level, we are committed to representing rural communities through this time of change and ensuring that no one is forgotten or left behind. We hope that post-pandemic and beyond, there won't simply be a new 'normal' but a time of opportunity and growth, for everyone.