New Mural Promotes Positivity in Kilcooley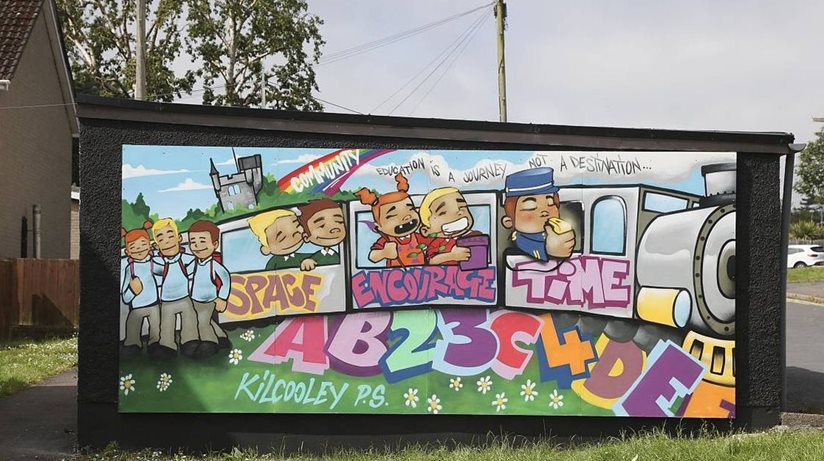 A community cohesion project supported by the Housing Executive has brought people of different backgrounds and ages together to reimage a mural near the entrance of Kilcooley Primary School.
During a project delivered by East End residents Association, in partnership with Ballywalter Cultural Forum, a local artist worked with parents and pupils from the school to design and create a positive new image for the wall.
The mural promotes education and the 'Get Set' message, which is all about giving children the 'Space, Encouragement and Time' to learn and grow.
Ian Cox, from East End Residents Association, explains how the new mural was created:
"The funding from the Housing Executive allowed us to bring parents and pupils from Kilcooley Primary School together to create a stunning mural that promotes the importance of lifelong learning.
"They were all really passionate about promoting the 'Get Set' message which is being used by our Neighbourhood Partnership to promote education throughout the estate.
"This piece of community artwork has really transformed the area."
Owen Brady, the Housing Executive's Ards and North Down Area Manager, said:
"I am delighted that the East End Residents Association have been able to use funding from our Community Cohesion programme for this project.
"Parents and pupils of Kilcooley Primary School really put a lot of thought and creativity into how they wanted to design the colourful new image, which promotes education.
"It was great to see people from different generations and backgrounds working together to create something special and sharing a real sense of civic pride.
"I hope that that this mural will be enjoyed for many years to come."
The Housing Executive's Gus Moore and Owen Brady pose by the mural with Kilcooley Primary School Principal, Pauline Brown and Pupils