She Shed empowering women, reducing waste and helping tenants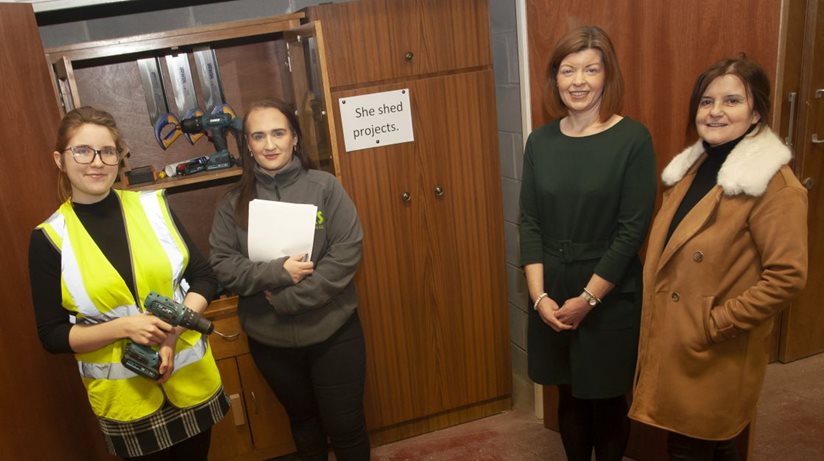 Women in the North West are learning new skills in joinery, upcycling and white goods maintenance, while helping to recycle, reduce waste and save money, thanks to almost £45,000 in Housing Executive funding.
The She Shed programme, run by the 4 Rs/New 2 You in Pennyburn, aims to empower local women by providing training, career insights and opportunities in traditionally male-dominated fields, while also helping Housing Executive tenants, in need of certain items, to settle into their homes.
White goods and furniture from vacated Housing Executive properties are given a new lease and offered to tenants as part of the project.
Housing Executive Neighbourhood Officer Deirdre Casey explained: "Whenever a property is vacated, quite often there is a lot of furniture and electrical goods that get left behind.
"We hooked up with the 4Rs, so that anything that we think can be used again is sent to them to be repaired, fixed or upcycled.
"Our new tenants can then come here, it's all very discreet, and they can have a look to see if there's anything they need to help them in their new home."
During the white goods course, women learn how to fault-find and repair electrical household items, such as washing machines, tumble dryers and cookers.
The joinery course involves learning how to make three types of wood joints, while the upcycling course shows women how to sand and paint items to create higher-quality products.
Teaching participants how to repair and upcycle items can also help to cut costs faced by individuals when household items break or show signs of wear and tear and it is hoped that these skills will help them to build a home they are more likely to remain in.
Another aim of the programme, funded through the Housing Executive's Sustaining Tenancies programme, is to reduce social isolation and improve well-being. Research by Housing First shows a link between isolation and poor mental health with tenancy failure rates and homelessness.
It is hoped the project will grow economic activity and create opportunities for tenants and residents by providing links to further education and training, from the North West Regional College, and employment with local companies.
The programme is open to all women, regardless of age or employment status.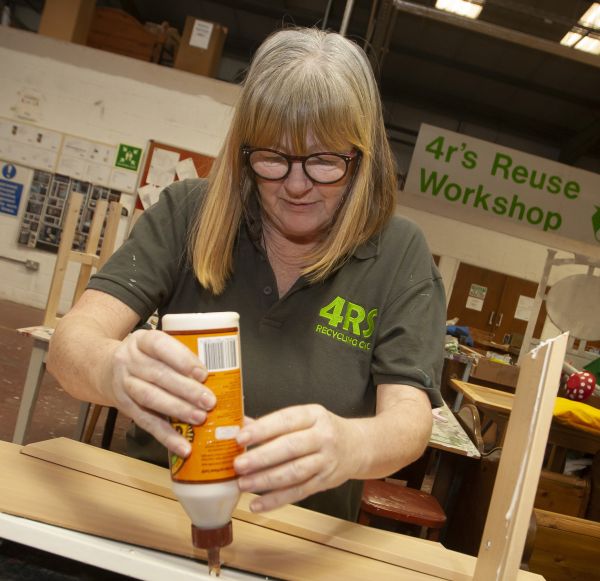 Workshop joiner Clare McLaughlin pictured at the 4Rs workshop in Pennyburn Industrial Estate on International Women's Day 2023.
4Rs Recycling Manager Tara McKinney said: "The She Shed provides women with the opportunity to learn new or update existing skills, boosting their confidence to explore training and employment in unconsidered areas.
"By reducing waste through reusing and recycling, the She Shed promotes the circular economy, while simultaneously teaching valuable skills to the community.
"Training and learning new skills can improve the mental well-being of participants, enhancing their confidence, self-belief, and self-esteem.
"This can help break the cycle of unemployment by empowering participants to pursue further training or employment.
"This is a long-term benefit for our local community and goes some way to reducing our carbon footprint. Many thanks to the Housing Executive for supporting us."
Housing Executive Assistant Area Manager Noel McNulty said: "The four Rs stand for reduce, reuse, recycle and reskill, and the group really lives up to its name.
"The She Shed's core values are in line with the vision and objectives of the Housing Executive's Sustaining Tenancies program, providing opportunities to learn skills and make connections.
"This project creates a foundation for participants to build a happy and fulfilling home and is an innovative approach to tackling unemployment, delivering training, and improving well-being."