Contractor powers ahead with communities in South Down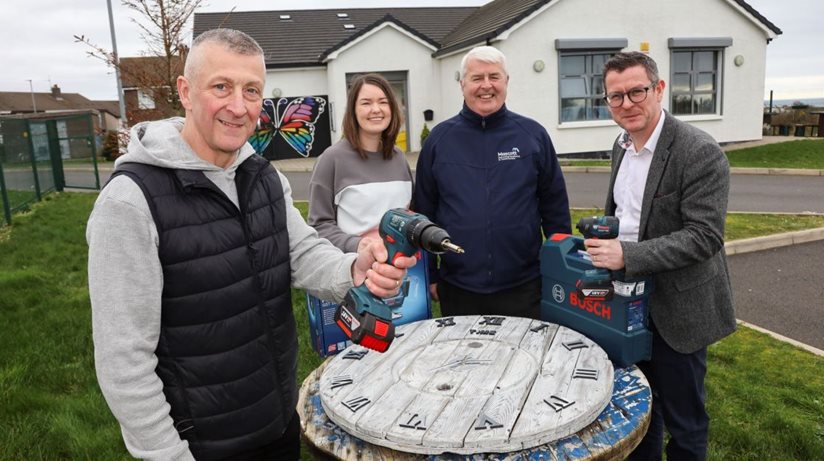 Building firm M&M Contractors/Mascott have presented brand new power tools to Newry Street Unite community group in Kilkeel as part of a Housing Executive planned maintenance scheme.
The company has been carrying out a wide range of improvement works to South Down homes for the Housing Executive's stock investment programme. In addition, they have been carrying out important work in the local community as part of a social value condition in their contract.
To fulfil their social value clauses, the company handed over the power tools to support the Hillside Men's Shed in Kilkeel.
M&M Contractors/Mascott have also been doing commendable work with four other community groups in the south Down area - Carnagat Community Association in Newry, Moneydarragh Community Association in Annalong, Burrendale Residents Association in Newcastle and the Sir Hans Sloane Centre in Killyleagh – under the same initiative.
Social value clauses are now included in government contracts that meet a certain value, and the Housing Executive contractors must partner with voluntary, community and social groups to fulfill these clauses.
Depending on the monetary value of the contract, this can have a massive impact on communities.
Housing Executive Director of Asset Management Paul Isherwood said: "The inclusion and scoring of social value clauses became mandatory for all government contracts of a certain value last June.
"However, the Housing Executive has had social value clauses in some of its contracts since 2016 as part of our work to improve communities. This contract is following and delivering on that trend.
"We are delighted to see M&M Contractors/Mascott connecting with the Hillside Men's Shed and other groups in the area to give back to the local community."
Mr Isherwood added: "With support from our staff, communities can benefit when maintenance contractors are working locally. Contractors can help local enterprises in a number of ways such as providing training courses, facilitating learning and apprenticeships, and supplying tools and equipment.
"It's an excellent opportunity for local groups to build a working relationship with our contractors while they are in an area. It also enables groups to build up technical skills and upgrade small projects."
Kevin McGarry, from M&M Contractors/Mascott, said: "We are very pleased to continue to deliver significant projects for the Housing Executive along with developing strong local community relationships as part of its sustainable social strategy.
"To be able to share our expertise and provide targeted financial assistance with communities is very rewarding. Our staff can see first-hand how we are helping the communities they are working in and are making a positive impact on the area.
"Hopefully we are enabling people to improve their homes and communities by offering our support."
David Hunter, from Hillside Men's Shed, said: "Men's Sheds are community spaces for men to connect, talk and create.
"Our group helps reduce loneliness and isolation, and it's fun.
"It's fantastic to receive tools of this quality which we need for our projects. They are much appreciated and will be put to good use."
If you would like to know more about social value clauses in government contracts and how your community can benefit, visit www.socialvalueni.org.