Take a walk on the Waterside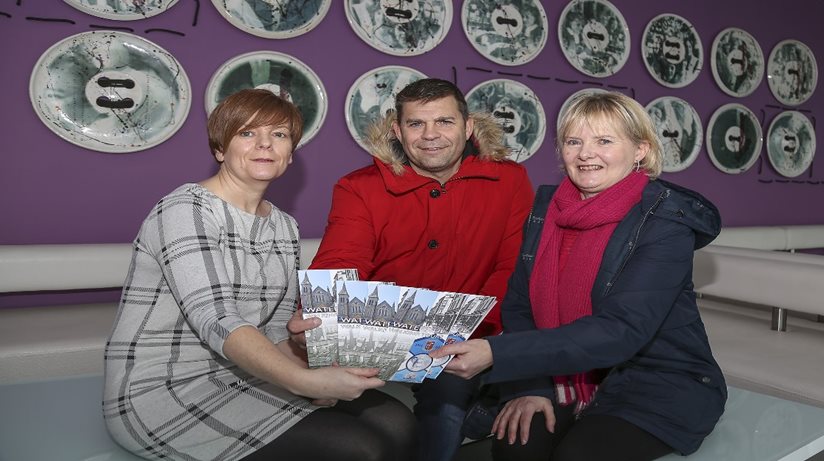 Interested in walking and learning some history? Through our Social Housing Enterprise programme, the Housing Executive has funded Waterside Neighbourhood Partnership to develop a free walking tour.
Designed to highlight a lesser explored part of the City, this unique self-guided walking tour aims to generate interest and educate those interested in the local history of the Waterside area in Derry~Londonderry.
With plans to have regular self-guided walking tours in the coming months to coincide with better weather and an anticipated rise in tourists to the area, Waterside Neighbourhood Partnership has secured funding to support this tour of the Waterside area that tells a different story compared to other tours in the City.
An informative leaflet with a detailed map outlining the 20 points of interest on the tour has been created for all participants.  The tour covers around 1.5 miles in just under an hour, catering for all types of walkers and allowing an in-depth look at some of the local sights, with the opportunity to also enjoy the beautiful views of the area.
A website is also being developed, with plans to have it up and running in the coming weeks that will promote the tour locally, nationally and internationally. 
Waterside Neighbourhood Partnership Manager, Alison Wallace, is delighted that the tour is now up and running.  She said:
"It's great to be able to tell the story of this area.  It is quite different to other walking tours already established in other parts of the City and is equally as interesting, with some fabulous views of the whole area as you go along. We anticipate the tours will generate income for local businesses as well as instilling increased community pride."
Waterside Office Housing Executive local Manager, Norma Buchanan, was also at the launch, and said:
"I am delighted that another local community group is taking the lead and embracing social enterprise as an avenue for progression.
"Over the last three years the Housing Executive has funded 29 individuals and social enterprises in the West area in the last three years through social housing enterprise, creating 14 jobs and 40 training opportunities.  We will always look to support our local communities to help themselves where possible, and look forward to supporting other new enterprises in the future."
For more details on the Waterside Walking Tours telephone 028 7134 2959 or contact Waterside Neighbourhood Partnership on their Facebook page.