Virtual self-care workshops delivered through Community Grant Scheme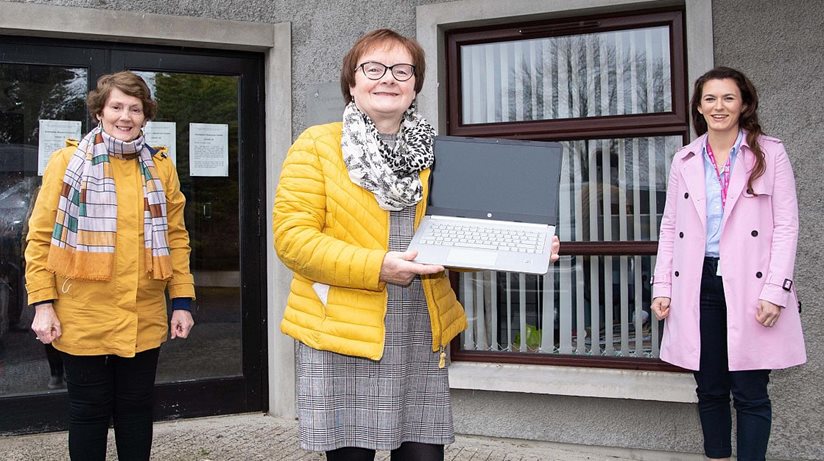 Funding from the Housing Executive's Community Grant Scheme has recently helped Granaghan & District Women's Group deliver online health and well-being workshops.
Allocated funds of £1,499 from the Housing Executive also enabled the local community group to purchase a much-needed laptop. 
Sessions from the self-care workshops enhanced the overall health and well-being of those who participated and were delivered using Zoom. 
However, for those who missed the workshops when they were streamed live, they were also immediately saved and archived to re-visit at any time.  
Through the workshops, social housing residents now have the equal opportunity to avail of these sessions digitally and from the comfort and safety of their own homes, a crucial factor during Covid-19. 
A new laptop has also helped Granaghan & District Women's Group carry out essential voluntary work online for the local community as well as complete day-to-day administration. 
All the committee meetings are now delivered using Zoom and the app is also used by the group to access services and speakers from other community-based support groups.
Chair of Granaghan & District Women's Group, Deirdre Bradley, thanked the Housing Executive for the recent funding allocation. 
She said: "On behalf of the committee of Granaghan & District Women's Group and all our members, we are delighted to thank the Housing Executive for their funding."
"The funding has made it possible to deliver 12 one-hour self-care workshops with Dr Anne Monaghan from Ederney, County Fermanagh and to purchase a laptop. 
"Over 70 people enrolled for these workshops and the impact they have had on people's emotional and mental well-being cannot be over-estimated. 
"We are extremely grateful to the Housing Executive for endorsing and supporting our endeavours to help people weather the lockdown as best they can."
Sharon Crooks, the Housing Executive's Mid Ulster Area Manager, explained how the Community Grant scheme helps local people.
She said: "Funding allocated from our Community Grant Scheme is often used to support a number of initiatives that promote health and well-being in the local area.
"These initiatives then in turn help community groups bring local people together and improve shared spaces in estates across the Mid Ulster Area.
"Funding used by Granaghan & District Women's Group is a wonderful example of how a local community group has kept people motivated during lockdown with their workshops. 
"We are also delighted to have been able to help the group purchase a new laptop at a time when being digitally connected is very important."