Young Co Down soccer players on the ball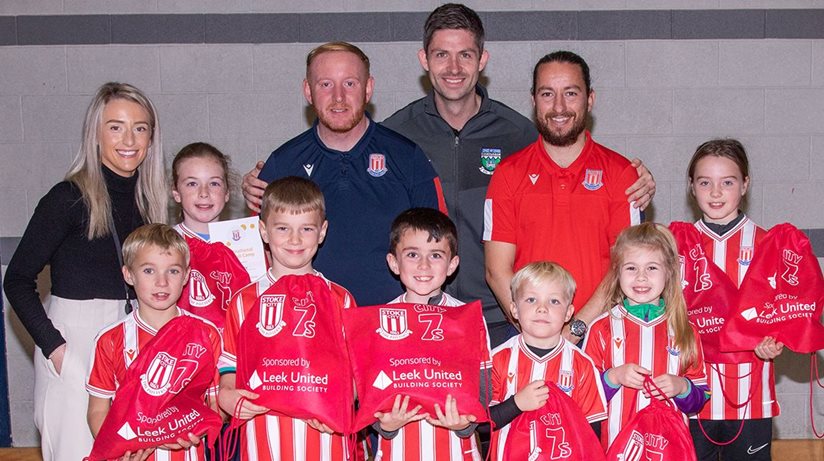 Scores of Co Down schoolchildren were on the ball at a special Halloween international soccer coaching camp thanks to a £5,000 grant from the Housing Executive.
The event was a Community Trust Partnership between hosts Newcastle FC and Stoke City FC with the support of Housing Executive Community Cohesion Grant Funding.
One of the organisers Gordon Moore said: "Hopefully this is the first of hopefully many soccer camps delivered by highly experienced international Stoke City FC coaches, supported by Newcastle FC coaches. Newcastle FC's vision is to get as many local children playing football in a supportive environment which will allow them to flourish.

"Our relationship with Stoke City FC is a great opportunity for our club to utilise high level coaching expertise and experience in the development of our Youth Development Structure.

"Newcastle FC wish to say a big thank you to the Housing Executive for its support which has allowed our club deliver this innovative project for local children."
The camp was held at St Patrick's Primary School, Maghera, and Shimna Integrated College, Newcastle. The project included Kick It Out sessions to help with good relations which looked at issues such as 'What are Good Relations', 'What is Racism?' and 'What is sectarianism?'.
"This builds on the club's promotion of mutual respect for all to help promote inclusion, togetherness and zero-tolerance to all forms of discrimination, both on the pitch and in their communities," Gordon said.
Newcastle FC welcomed Tommy Booth and Adam Whitmore, Stoke City FC international full-time coaches, who provided the four-day football camp.
"Think it is fair to say all the kids had great sessions, loads of time on the ball and plenty of new drills to practise dribbling, possession, ball mastery, shooting to name a few.
"This has been a great opportunity to experience high level coaching expertise to help develop our youth squads."
Tommy and Adam took time out to also provide a coaches seminar, with topics including Academy philosophy, managing players with different levels of ability, and maximising player development as well as facilitating a Q&A session.
Liam Gunn, the Housing Executive's South Down area manager, said: "We were delighted to support this excellent project through our Community Cohesion Fund.
"Community Cohesion involves developing strong, positive relationships between people from different backgrounds in the workplace, in schools and within neighbourhoods – and this event is a fine example of that.
"The children have had a unique experience, had a fantastic chance to develop their football skills, made new friends and have enjoyed themselves. That's what strong communities are all about."
The organisers wish to thank all those involved in making this football coaching event a major success, including the Housing Executive for grant funding, Tommy and Adam the Stoke City coaches, St Joseph's Primary School and Shimna Integrated College for use of their facilities.
Thanks also go to the Burrendale Hotel for looking after the coaches during their stay, Paddy Maginn and Quinn's Bar for hospitality provided and particularly the hard work and dedication of the youth coaches in planning this event, with special mention of Pete Jackson, who was lead coordinator.