Youth project tackles anti-social behaviour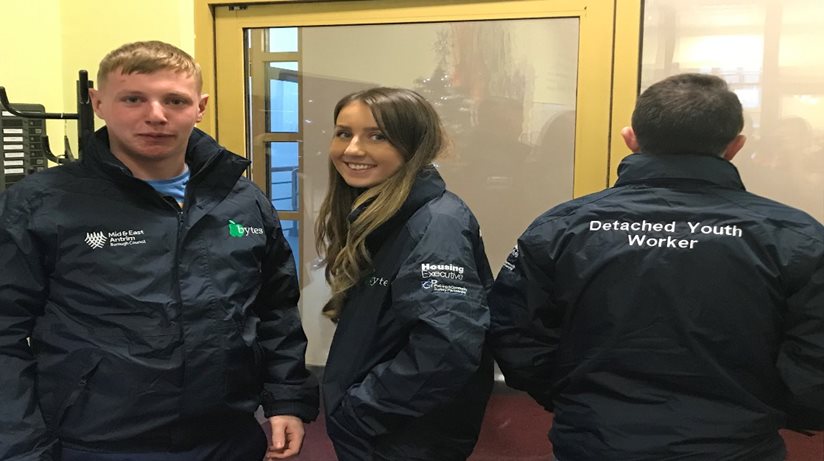 A youth project across the Mid & East Antrim borough has been providing young people at risk with a structured programme of activity at key times when anti-social behaviour is more likely to occur, such as evenings and school holidays.
Funded by the Housing Executive's Community Safety Team, Mid and East Antrim Policing and Community Safety Partnership (PCSP) and Mid and East Antrim Borough Council's Good Relations Department, the Bytes Detached Youth Project provides a regular and consistent programme targeted at young people.
Through developmental group work, the project aims to transform relationships with the PSNI, PCSP Community Wardens and Housing Executive staff, as young people are encouraged to build respect and citizenship values.  As well as workshops, the groups have enjoyed pizza nights and go-karting, developing their skills and building relationships in a fun environment.
The agencies involved in the Bytes Project have been building meaningful relationships with these young people.  They can explore why some young people do not engage with mainstream youth provision, help them address issues they face in their communities and encourage civic responsibility.
Jackie O'Kane from the Housing Executive's Community Safety team said:
"Working on the ground with young people in our estates is a building block in our continuing work to provide safe and welcoming communities.  By joining forces with the Bytes Project, PCSP and Mid & East Antrim Borough Council, we are working in partnership to address potential issues that enables sustainable and safe neighbourhoods."
The Bytes Detached Youth Workers have been given new waterproof jackets with the logos of the agencies funding the scheme.  This helps identify youth workers on the street for both young people and the general public.
The Bytes project will run until 2020.