How we measure performance and outcomes
Services funded by Supporting People are required to submit performance and outcomes data in relation to their clients. This is collected through:
If you are unsure whether your service is required to submit client schedule information or if you have any questions please don't hesitate to send these to:
Please use the guidance below to walk you through how to submit. You will be required to have an f5 account to access these systems.
If you require an account please contact:
Performance Indicator (PI) Workbooks
The performance of Short-Term Accommodation-Based services funded through the Supporting People programme is measured against key performance indicators (KPIs) and service performance indicators (SPIs).
What KPIs do we use to measure performance?
We collect quarterly data for the following performance indicators:
KPI 2 – service users who have moved on in a planned way from temporary living arrangements
SPI 1 – service availability
SPI 2 – service utilisation
SPI 4 – throughput
How to complete a Performance Return
Providers must complete quarterly returns within 15 working days of the last reporting day of each quarter.
Performance returns (PI Workbooks) for Short-Term Accommodation-Based services should be returned to Supporting People via SPOCC.net every quarter.
You can download the latest Performance Measurement reporting timetable:
You will find guidance notes to help you to complete and submit your workbooks here:
Client Schedules
Client updates should be sent to Supporting People on a regular basis and should continue to be an accurate reflection of each service as performance is being measured using this information.
What services are required to submit client schedule information?
Long-Term (Block subsidy) and Floating Support services are required to submit client schedule information for all clients.
Providers of Long-Term (Block Subsidy) services must also include those who self-fund their support.
How do I submit client schedules?
Guidance on how to submit client schedules can be found in:
How we use performance measurement data
We will use performance information to inform the contract management process and to aid strategic planning.
Reporting on Outcomes
Providers of Supporting People services are required to collect and submit outcome information through the Outcomes system (not the SPOCC system). If you have an f5 account and navigate to your resource screen you should see a button for the Outcomes system.
What is Outcomes?
Outcomes Measurement was introduced to the Supporting People programme in April 2018 as a way for providers to report on outcomes being achieved by clients within their services. The data is collected at client level and reported to Supporting People at scheme level. The outcomes in which providers report on were designed in consultation with the provider sector and are linked to the Draft Programme for Government Outcomes.
The outcomes framework can be viewed by clicking here:
or alternatively by accessing the Outcomes Guidance document:
How often does outcomes information have to be submitted?
The frequency of outcomes submissions depends on the service type. Reporting for Short-term services is required quarterly and reporting for Long-term services is required annually.
You can download the latest Outcomes Monitoring reporting timetable:
How do I Log into Outcomes?
You can read guidance on how to log into Outcomes:
Or watch the video below:
Logging in on Microsoft Edge
When logging in on Microsoft Edge you may not have the option to change your username. You will have to click "More choices" then "Use a different account".
You will then be able to enter your username i.e. NIHE\username and f5 password.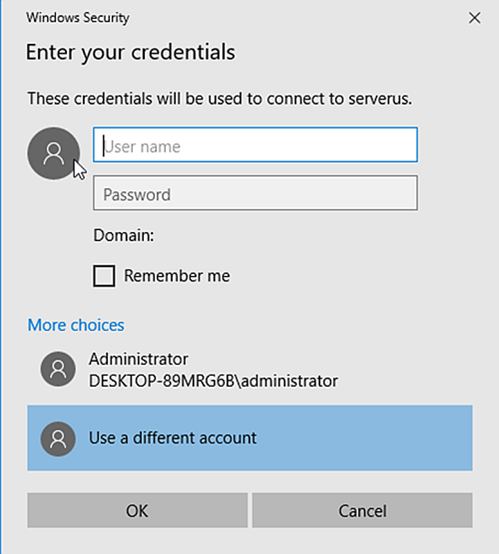 How do I Submit Outcomes?
To learn how to input and submit outcome data, you can the:
Or watch the video guidance:
---
Next
Supporting People Annual Report